PORTFOLIO:
Metal Stamping of a Steel Workbench Leg
A provider of industrial storage systems approached Begoun, Inc. with a large custom metal stamping project. The customer required 50,000 units of a steel workbench leg to be delivered over a 1-year period.
Their supplied print called for .075″, hot rolled, pickled, and oiled steel, which had to meet tolerances of ±.005. Within 3 weeks, Begoun began delivering parts at a rate of approximately 5,000 pieces every 4-5 weeks.
For more on this project, see the table below.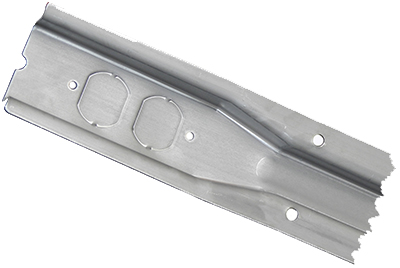 HIGHLIGHTS OF THE CUSTOM METAL STAMPING PROJECT

PRODUCT DESCRIPTION

This steel leg is used as a support for a workbench.

MACHINING CAPABILITIES & APPLIED/PROCESSES

Primary:
Metal Stamping

OVERALL PART DIMENSIONS

Material Thickness: .075″

TIGHTEST TOLERANCES

±.005″

MATERIAL USED

Hot Rolled Pickled and Oiled Steel

MATERIAL FINISH

None

INDUSTRY FOR USE

Industrial Storage Systems

VOLUME

50,000 Units per Year

DELIVERY/TURNAROUND TIME

4 Weeks

DELIVERY LOCATION

Illinois

STANDARDS MET

Customer supplied print

PRODUCT NAME

Steel Workbench Leg