PORTFOLIO: Fourslide Stamping of a Beryllium Copper Clip
Begoun, Inc., a provider of precision metal forming, was contracted by a manufacturer of cable television components in Georgia to produce a hybrid grounding clip. Begoun decided that the clip, composed of beryllium copper, would require production by means of a precision fourslide stamping process in order to produce the intricate bending requirements of the part.
The customer-supplied print specified a thickness of.010″, as well as a bright acid tin plating. A quantity of 625,000 of these parts were produced, put into stock in Begoun's warehouse and shipped out monthly to their customer.
For more on this custom spring coiling project, see the table below or contact Begoun directly.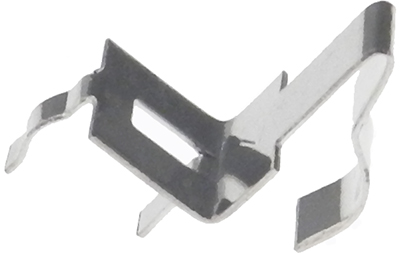 HIGHLIGHTS OF THIS CUSTOM FOURSLIDE STAMPING PROJECT

PRODUCT DESCRIPTION

This beryllium copper clip is used in a cable TV application.

MACHINING CAPABILITIES & APPLIED/PROCESSES

Primary:
Fourslide Stamping

OVERALL PART DIMENSIONS

Material Thickness: .010″

TIGHTEST TOLERANCES

±.005″

MATERIAL USED

CA172 Beryllium Copper

MATERIAL FINISH

Bright Acid Tin Plating

INDUSTRY FOR USE

CATV

VOLUME

625,000 Units

DELIVERY/TURNAROUND TIME

In Stock for Customer Releases

DELIVERY LOCATION

Georgia

STANDARDS MET

Customer supplied print, CAD Drawing

PRODUCT NAME

Hybrid Grounding Clip
Begoun, Inc. • 655 W. Grand Ave., Unit 200, Elmhurst, IL 60126 • Phone: 630-617-0200
Copyright © Begoun, Inc. All rights reserved.